Smock's 2012 National Stationery Show Invitations: Foil Stamping, New Calligraphy Fonts & New Designs Arrive!
It's official: foil stamping has arrived at Smock! Today we're sharing a special sneak peek of the letterpress invitations we printed for the 2012 National Stationery Show, and we think you'll love the new additions we're bringing to the line. We're adding two gorgeous new fonts to our collection of exclusive Smock calligraphy fonts, and these invitations feature both of those new fonts! Plaza is an elegant, formal script based on Sarah Hanna's calligraphy, and Stella (based on a Kelle McCarter hand) has a more playful, whimsical feel. The invitations are just a hint at what's new: besides foil stamping and new calligraphy fonts, we're also introducing four inspired new wedding suites, 12 dazzling colors for foil stamping, 100% recycled coasters, and lots of cool new products for our Everyday line (including 6 new styles of double-sided gift wrap, new notebook styles, more man-friendly stationery, and much, much more!).  A special thanks to master calligrapher Debi Zeinert from The Blooming Quill for addressing the invitation envelopes – aren't they gorgeous!?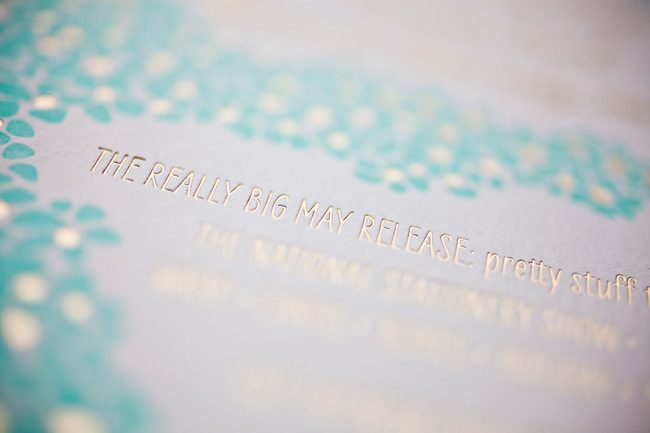 Foil stamping will be available at Smock dealers in early June, so stay tuned!