Smock Travels – Los Angeles
During our West Coast travels, Lindsy and I had the chance to stop in and visit lots of our LA dealers – we were thrilled to be able to stop in to the shops and meet our lovely retailers in person! Today we're highlighting some images of two of the stores we visited during our trip – we'll start with Presence Studio City, a stationery and gift shop in Studio City. Presence offers a carefully curated selection of unique gifts – including some gorgeous hardcover books, one-of-a-kind jewelry, home decor, fragrant candles, and more.
We chatted with Kaila from Presence – she was kind enough to tell us more about this sweet boutique!
What about the store are you most proud of?
We try to showcase unique yet affordable gifts that people won't find anywhere else. We also pride ourselves on our customer service – many of our stationery and gift customers come back on return visits because they were so happy with their experience.
What's the hottest color palette right now?
We've been seeing a lot of blues right now – cool tones of blue paired with silver, lots of navy, some turquoise here and there too. Blue is definitely a popular color right now.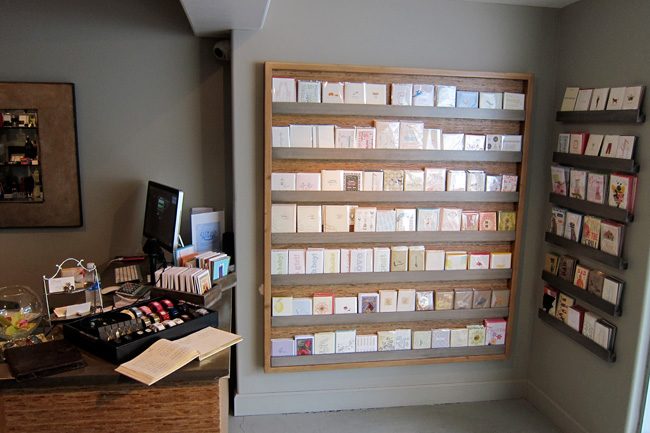 One of our other stops in LA was to Landis Gifts & Stationery – a shop that truly has something special for everyone. Located on Larchmont Boulevard – an area that got its start in the early 1920's – the shop is nestled into one of the most historic areas in LA and is surrounded by a wonderful mix of boutiques and restaurants.
Edie shared some thoughts about some of our latest products – check out her interview with Lindsy!
[iframe http://www.youtube.com/embed/0Noymj7rL8k 650 370]