Harbour Island Wedding in the Bahamas
Melissa and John worked with Colin at Pulp & Ink for their wedding invitations and stationery for their fairytale wedding in the Bahamas. The couple selected our ombre Amira suite and personalized each piece in the same shade of pink that the bride chose for her custom Vera Wang wedding gown. Read on for their beautiful love story!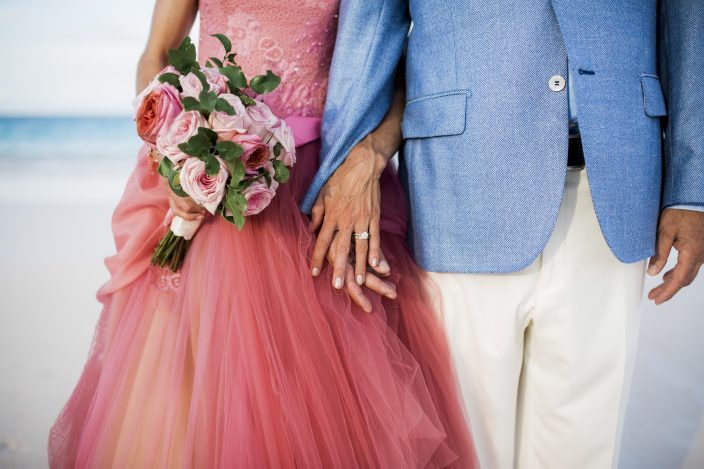 John Jacobs and Melissa Posh first met on June 9, 1994 at a party at Lake Point Towers. John, having just had shoulder surgery, was on major pain relief medication, causing his sense for adventure to be higher than usual. Melissa walked in, John approached, words were exchanged, and chemistry began to operate. For John it was ignited by Melissa's spark of contagious energy and for Melissa, it was the aura of excitement and wit that attracted her. In a matter of minutes a romance had begun that culminated 22 years later in a fairy tale wedding for the ages.
John is a conservative wealth manager for the Union Bank of Switzerland (UBS) and Melissa is an entrepreneur in the food, fitness and fashion arenas. Although on paper, they were exact opposites, we all have heard the old saying "Opposites attract". The twenty-two years seemed to fly by and there was never a day that Melissa did not get excited when John walked through their door at night. 
Their high rise home looked over Lake Michigan and it kept them in touch with their mutual love for the water. John had many hobbies: he was a pilot, an artist, a reader and musician with interests in the guitar and the piano.  Melissa was a creative type. She loved to exercise, run marathons, practice yoga, bake and cook, shop for fashions and always seemed to find the perfect gift to give to a friend or member of her large family. She was also an event planner, organizing a golf outing in honor of her father, Ed Posh, who was the head golf professional for 37 years. The event has raised over $700,000 for college scholarships for local area youth.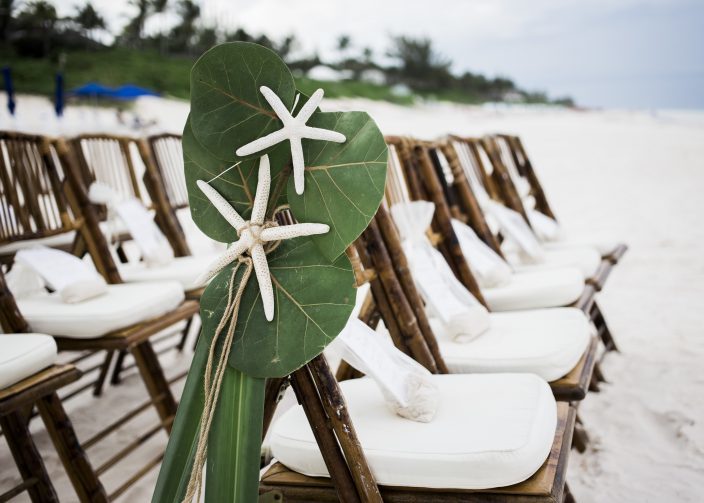 Most of all both Melissa and John were in love with deep-sea fishing and spent myriad hours cruising and fishing in the Caribbean waters.  John had bought a large fishing yacht naturally christened  "The Melissa".  One of their first marine adventures was a trip to Harbour Island in the Bahamas. It was "Love at first Docking". The island offered fantastic fishing for John and a three mile long pink sand beach for Melissa. You could even ride horses on the sand. The island was a match made in island heaven. It offered first class gourmet restaurants, fabulous libations, a sprinkling of beautiful boutiques, and it was small and intimate to boot. It was enough to keep them and John's two children, JR and Lindsay, as well as several of their friends, family and clients coming back year after year.
On June 5th, 2015, twenty-one years after their first meeting, John flew Melissa down to the Island.  By now he had his own plane. He'd made a reservation at their favorite restaurant, The Rock House, and over the course of the evening actually got down on one knee and proposed. I bet none of you are scratching your heads over her immediate response.
Melissa and John began making wedding plans for exactly one year from that fateful day. Where to hold it? Hmmm? Aspen, Paris, Chicago, or some other special place? John began thinking of all the people that would be invited; Melissa's 12 brothers and sisters, her many nieces and nephews, and his own two children. Almost all of them loved their special island too. Those that hadn't been there were dying to go to the magical place they had heard so much about over the years.   It did not take long to come up with a unanimous decision. Harbour Island was the only place it could be.
The venue was an obvious one but one not readily apparent. There was a place on the Island called Ocean View Club and for some unknown reason the lovebirds had never been there.  It was only months prior to their engagement while reading an article in a travel magazine that they discovered it.  John brought up a satellite image of this quasi castle (originally called "Pip's Place") and they quickly hopped on his plane and shortly thereafter were taking a tour of the venue. Within a few hours, a contract was signed and the DATE was set. They would be married June 11, 2016, come hurricane or high water. Beach Chic! Island Charm! …. How to describe a place with such a feel?
Melissa spent the next year planning this dream wedding. It was her first one and she had been waiting a long time. It was NOT going to be a small affair. Her creative mind was behind many of the weekend's celebrations. She served as travel agent and island coordinator for most of the 100 close friends and family they hoped to celebrate with. Inspiration for the events, fashion, design and décor came in varying degrees and stages.  Luckily Mel's mother was an interior designer by trade and provided help all along the way. It started with a large group reservation on American Airlines. After some of the guests arrived Wednesday, there were welcome drinks on the dock. On Thursday there was a seaside luncheon, which only could be reached by ferry. Fabulous food was to be followed by dockside fishing for the kids. On Friday, guests were treated to sunrise yoga and deep-sea fishing available on the MELISSA for the more adventurous adults. In the evening they all gathered at the Rock House for more welcome drinks for those guests that had just arrived. Saturday was to be the big event. Sun, sand and a beach wedding  celebration only to dream of.
The groom was to be dressed in a blue color reminiscent of a Bahamian daytime sky, which just so happened to be the color of his eyes. The Mother of the Bride wished to wear a dress that reflected colors found in the sea. Her father was to be clad in a complementary color. The groomsmen wore custom fitted white shirts and the bridesmaids white ruffled chiffon dresses. Last but certainly not least, Mel was now in search of her very own show-stopping wedding gown. She left Barney's weeks later with a gown that seemed perfect at the moment, a silver Monique L'Huillier, only to decide the metallic shine wore off in a few days. A magazine photograph surprisingly found in a drawer was the next seemingly perfect gown, a deep, dark sky-blue couture Valentino. Mel had it shipped for arrival the next day. Lo and behold! It may have been a WOW in the picture but NOT a WOW at all on her petite frame. What was left – could it be Vera Wang? It was the very next stop. Champagne was served and only a few hours later, two white dresses were purchased. Let the seamstresses begin!
The next morning Melissa awoke with a pang in her heart for pink. A pink that was fit for a princess! While on a business trip for a trade show in Bangkok, she watched the movie Cinderella, not once, but three times in a row.  She was looking for a spark of magic that only a pink gown could provide. Cinderella may have worn blue to the ball, but her first gown was a deconstructed pink creation of her own. It was exactly the inspiration needed and soon to be found and custom made and altered at Vera Wang!  She would walk down the aisle to the theme song from Cinderella, Strong.
She had found a second white Vera Wang dress. It would be kept and worn to the reception. Melissa would then match her guests whom had all been requested to wear beach chic white attire. John would stand out in blue and Melissa's parents in sea green. They would be the only colors left to be in contrast to the dark night sky.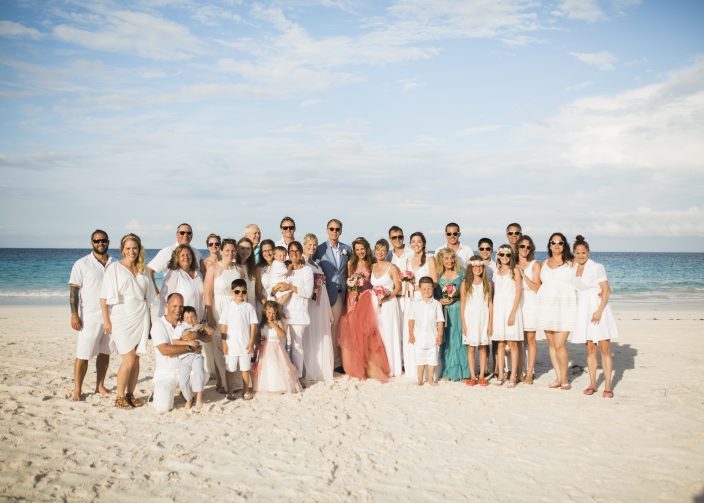 Once the color of her dress was decided, she needed accents in pink for save the dates and wedding invitations. She had pink vases hand-blown for the flowers. Pink fish place cards and knot rope cardholders were found. This was a gesture to John's love of the sea and fishing.  No ordinary guestbook would do.  A blank canvas was placed on an easel for the guests to record their wishes for the happy couple in pink, gold, sky-blue and sea green. Matching colored napkins were designed for each of the themed events which included quotations designed to spark joy and inspire.
A cake was made in Florida and various other desserts were baked and flown in from around the country. Romantic pink and coral roses were chosen and shipped in from Nassau. Gold silverware was shipped from Asia. "Cheers" champagne flutes were chosen for guests as gifts.
Welcome bags included "John John #1 Crisps" from England, sea salt truffles, music speakers from Bangkok and "Melissa" sandals she brought back from a trip to Brazil. Beauty samples were included for the women and lip balm for the men. The "5 Love Languages" book and many current popular magazines were put in to keep guests occupied beachside. Sunglasses and sunscreens were also provided. Even custom-made water bottles were included as a souvenir and to keep guests hydrated. Finally, in case of emergency, a kit was created with just the right accessories to help and heal. On the welcome bag a wedding logo was created and printed on the side: HI©– Harbour Island Love.  
Photographers and Videographers captured all the still-life activity and Go Pro, drone and video covered all the live action. A DJ from Naperville provided the music as guests sipped Clif Family wines and Billecart Salmon rose champagne as well as fine rum and tequila especially chosen just for them. It was an affair to remember and a "Cinderella" fairy tale come true.
Photography: Katie Childs Photo | Venue: Ocean View Club | Wedding gowns: Vera Wang | Shoes: Rene Caovilla | Jewelry: Cartier, Rachel Lynn Chicago | Suits: Burdi, Syd Jerome | Groom's shoes: Gucci | Stationery: Pulp & Ink | Place cards: Patty Antles Pretties | Cake: Divalicious | Sweets table: Erin McKenna's Bakery | Wine: Clif Family Winery | Hair: Buzz Salon, Jeanine Bruketa & Erik Mishler | Accessories: Left Bank Jewelry & Bridal Finery | Makeup: Barney's Chicago | Video: Leap Weddings | DJ: DJ's for You