Smock Store Spotlight: Paperista's Letterpress Wedding Gown
We were SO excited to team up with Antoinette at Paperista for the incredible paper project that we're about to share. The stationery boutique wanted to create a super-special display for a recent bridal event, so they teamed up with a local college design student to create fashion out of paper. Rika VanHeerde Snyder – a student in the Apparel Design Program at the University of Minnesota and intern at Joynoelle – created the most amazing, one-of-a-kind, letterpress wedding gown and cocktail dress for the display. The dresses were made entirely from recycled Smock stationery and invitations, as well as a bit of our eco-friendly gift wrap. We were completely blown away by the end result — take a look!
Rika worked with hundreds of scraps of bamboo paper to create the dresses.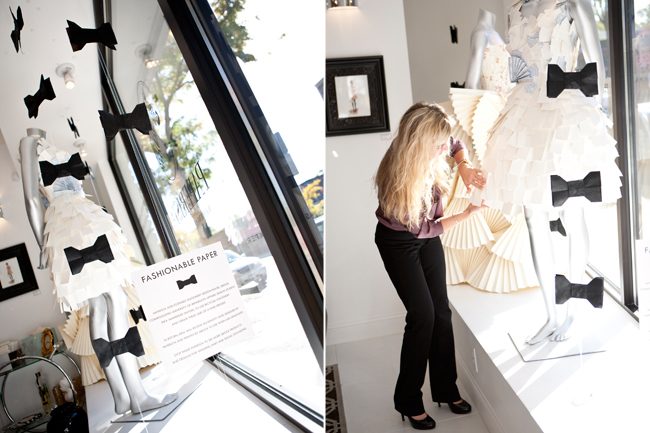 The corset top on the wedding gown is completely stunning. The gown was crafted with our ivory bamboo paper, and some of the letterpress ink colors that are shown include raspberry, mango and taupe.
The cocktail dress was created with our white bamboo paper and features pretty hints of blue (our Ceylon gift wrap).
A huge thank you to the lovely ladies at Paperista for choosing to work with us on this incredible project!
{Photos by Erica Loeks Photography}