Smock Sale to benefit Earthworks! Make your holiday shopping matter.
If you haven't gotten started on your holiday shopping yet, head over to our sale section for some great gifts for the paper lovers in your life! Sale section items are marked down to 50% off, and if that weren't reason enough to start shopping, we're adding a bonus: all proceeds from sale items purchased on Monday, November 28 or Tuesday, November 29 will be donated to Earthworks Oil & Gas Accountability Project to help raise awareness about hydrofracking. Through this project, Earthworks teams up with tribal, urban and rural communities to protect their homes and the environment from the devastating impacts of oil and gas development. Your purchases can make a difference! Need some ideas? We've put together some great combinations for gift sets with items straight from our sale section, so check out our picks! We've included a wide range, so you'll find ideas for under $15 or $30.  Our sale section has also got some fantastic holiday cards & gift tags, so stock up before they're gone!
Great Gifts under $15
Perfect for the person who loves to send little notes just because. Pair a box of our Ellie notecards with a box of coordinating petite folded notes — at just $7 per box, give these letterpress cards as a set for a pretty present at just $14.
Know a paper-crazy kid? Introduce them to letterpress with these sweet cards! Petite folds in fun colors with kid-friendly motifs come in sets of 8.  At only $7 per box, these would be great little stocking stuffers! Choose from our Ellie, Horsey, Liony and Ducky notes.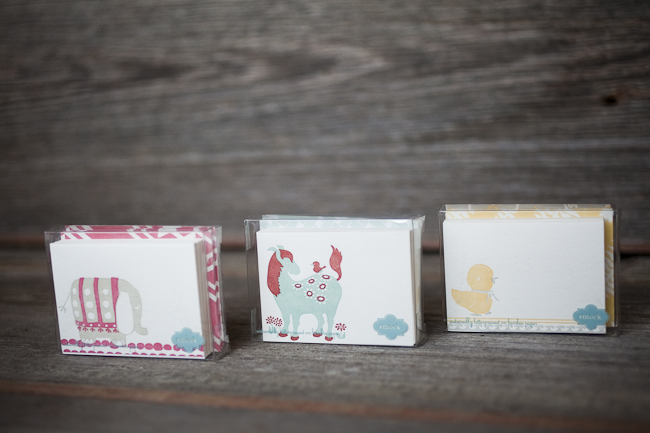 Great gifts under $30
Our Thackthwaite attachment is a pretty cube full of sticky notes — 700 of them, to be exact. Attachments from Smock are made from 100% post-consumer recycled paper and they're FSC certified, so they're eco-friendly and cute. Snag this deal (marked down to $9!) and pair with a set of blank Thackthwaite notecards for just $21.
Pair some flat social notes with one of our notebooks for another great gift idea under $30 — we love seeing our Horsey flat notes with a Persimmon notebook, a fun combination for only $16.
At just $2 per card, we love the idea of giving a sampling of cards (paired with a lovely keepsake box, like the Veranda box pictured below).  Simply choose 10-12 cards from our fabulous selection of designs, package your picks in a small keepsake box, and you've got a great present for less than $30. Cards for special occasions such as engagements, birthdays, a new baby or 'just because' will have the recipient of this thoughtful gift prepared for the year.
Holiday Cards
Don't forget about holiday cards! Check out the beautiful holiday cards in our sale section — stock up on our Joy & Peace cards and send stylish letterpress greetings this season. Our Joy petite folds make great gift tags, and our Celebrate cards make lovely thank you notes after the gift giving is over. Looking for something more traditional?? Check out our Holly letterpress greeting cards or our festive Poinsettia gift tags – boxes sell for just $7 each!
We'll be posting more gift ideas along with DIY projects for the holidays over the next few weeks (including tutorials for gift bows and the most beautiful holiday wreaths ever), so stay tuned!