Announcing Smock Design Contest Winners!
It is with great pleasure that we announce the winners of our latest Smock Design Contest for the second half of 2010! As always, our beloved Smock retailers have continued to amaze us with their design inspiration and their passion for stunning stationery. Our good friend and paper connoisseur Audrey from Urbanic Paper Boutique in Venice Beach, California stepped in and did the honors of guest judging our contest this time around. Audrey has impeccable style and a fabulous eye for stationery – we love her picks and you will, too! Over the next few weeks we will be sharing full details and of photos of all our honorees right here on the blog so don't miss it!
FIRST PLACE WINNER – Pearl Beach Paperie in Orlando
Brought to us by Pearl Beach Paperie in Orlando, guest judge Audrey loves the timeless colors and fonts of this design, a perfect balance of masculine and feminine.
FIRST RUNNER UP – Paperkiss in Australia
Saying that this pretty wedding invitation "…makes a sharp, sophisticated statement without getting too busy" we loved Audrey's pick for first runner up, a custom letterpress wedding invitation design from our friends at Paperkiss in Australia.
SECOND RUNNER UP – Rock Paper Scissors in Franklin, Tennessee
Audrey's choice for second runner up is a sweet letterpress baby announcement from our friends at Rock Paper Scissors in Franklin, Tennessee. She loved it because it is "soft and whimsical and a keepsake any recipient would save and adore."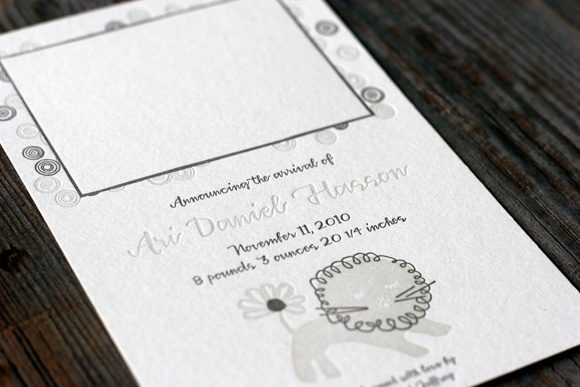 HONORABLE MENTIONS
In addition to our three winners, we're recognizing seven additional designs that inspired us to no end. We extend a heartfelt thank you to our friends at the following stores – we are continually awed by all you do!

Arabesque in Naples, Florida
Kate's Paperie Soho in Manhattan
Inscriptions on the Boulevard in Fort Worth, Texas
Byrd & Bleecker in Fort Worth, Texas
By Invitation Only in Little Rock, Arkansas
LS Amster Company in Scarsdale, New York (two honorable mentions!)