Announcing Our Smock Design Contest Winners
Today we're excited to announce the winners of our most recent Smock Design Contest! Our friend and paper blogger extraordinaire Kristen from Paper Crave did the honor of selecting our first place winner and runner-ups from among our favorite recent customizations, sent to us by our beloved Smock dealers. Over the next few weeks we will be sharing full details and photos of all our honorees here on our blog so don't miss it. In the meantime, a big thank you to all of our awesome Smock dealers!
FIRST PLACE WINNER – Salutations in Charlotte, North Carolina
Brought to us by Salutations in Charlotte, guest judge Kristen says, "I love that it's feminine without being too feminine," about our winning design, a stunning customization of our Kurai wedding invitation.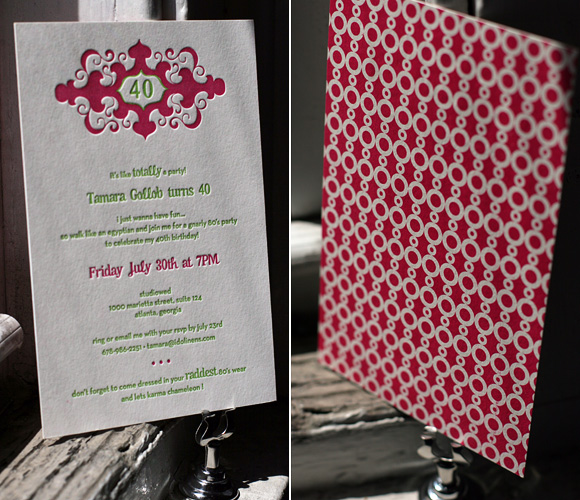 FIRST RUNNER UP – Luxe Expressions in Atlanta
Saying that "…the vibrant colors and bold pattern make this such a fun invitation" we loved Kristens's pick for first runner up, a custom 40th birthday party invitation design for our friends at Luxe Expressions in Atlanta.
SECOND RUNNER UP – Judy Paulen Designs in Manhattan
Kristen's choice for second runner up is a custom letterpress wedding invitation brough to us by Judy Paulen Designs at Bloomingdale's in Manhattan. She loved it because "the fantastic color choices and patterns give it a very modern feel."
HONORABLE MENTIONS
In addition to our three winners, we're recognizing seven additional designs that inspired us to no end. We extend a heartfelt thank you to our friends at the following stores – we are continually awed by all you do!
Details in Philadelphia