Smock Custom Wedding Invitations in the Press
We're long overdue to round-up (and thank!) all of the amazing publications that have featured our custom wedding invitations in their magazines and on their websites. Here are a few of the fabulous spotlights we've been spotted in! First up, Martha Stewart Weddings recently featured these custom Halifax bridal shower invitations that we created with The Dandelion Patch.
Four Seasons Weddings featured our Tatra customization in a fun feature on Radiant Orchid – the 2014 Pantone Color of the Year!
Brides magazine has featured our invitations and stationery in several of their recent issues — our popular Keira invitation and sleeve was featured in a glamorous "Get the Look" feature in the June/July 2014 issue. We created a custom, blue foil stamped gift tag for an inspiration page based on the upcoming movie, Grace of Monaco, for the December 2013/January 2014 issue, and our Halifax invitation was featured in the October/November 2013 issue of Brides.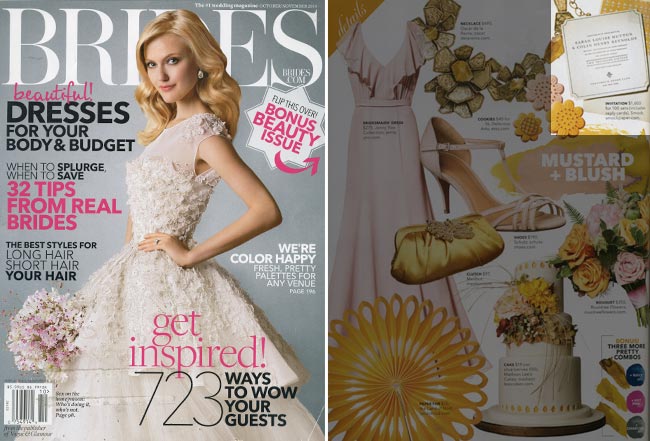 Our new Rainier save the date was featured in a special issue of Coastal Living Weddings alongside some other really pretty save the dates – perfect for a destination wedding.
Weddings in Houston also featured our Keira invitation, as well as our new Spence invitation design in their January/February  2014 issue! 
Many thanks to the editors who chose to include us in their publications!