DIY Pins with Smock Gift Wrap: Guest Post from the Little Yellow Couch
We've got  a fun DIY featuring our double-sided gift wrap to share today that was recently shown on the Little Yellow Couch! These pins are a cute way to show a little love, or could even be used as prize ribbons. Check out the DIY instructions to make your own!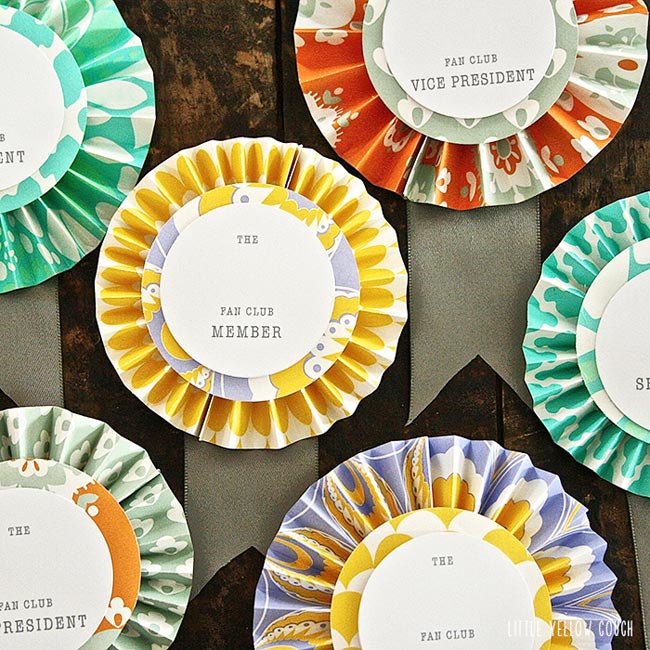 Supplies:
Quilting Ruler or Straight Edge
Glue Gun
Glue Stick
1 1/2″ or 2″ wide ribbon
Directions:
Gather your supplies.
Cut a strip of double-sided gift wrap 2″ wide by 24″ long.
Accordion fold the paper in about 1/2″ wide folds continuing the length of the paper strip.
Apply the glue stick to both 2″ ends and glue together creating a cylinder.  Allow to dry for a few minutes.
Flatten cylinder to create a circular medallion.  Using your glue gun, apply a small dot of hot glue in the center of the medallion and hold circle together for a few seconds to allow glue to harden.
Using your 2 1/2″ round punch, cut two circles out of the gift wrap.  Using your glue gun, adhere one circle to each side of the medallion.  We chose to use the opposite design on each side.
Cut a 6″ piece of ribbon and notch one end.
Glue ribbon and pin to the back of the medallion.
If you'd like, print Little Yellow Couch's Fan Club Titles on card stock.  Using your 2″ round punch (or scissors), cut out the circle.  Glue to the center of the front of your medallion.
Go make someone's day!
Here's a printable PDF with step by step instructions. Many thanks to the Little Yellow Couch for sharing this cute DIY with us!