Bridal Shower Thank You Notes
There are lots of exciting events that go hand-in-hand with weddings: engagement parties, bridal showers, rehearsal dinners, welcome parties, and farewell brunches. While many couples will purchase wedding thank you notes to give thanks for gifts as a couple, we think it's extra special for a bride to have some of her own stationery when it comes to writing bridal shower thank you notes. We rounded up a few of our favorites below — we love these for bridal shower thank you notes, but many of these cards can pull double-duty and work well as wedding thank you notes, too!
Rose gold is both feminine and romantic – and looks gorgeous next to our taupe letterpress ink. Get the look with our Leaves, Cameo, Classic Heart and Sparkling thank you notes.
Our new Papaya suite features pale blue letterpress ink with a pretty coral colored ink for a fresh, fun look. From the left: Papaya, Terrace 2 and Rainier notes.
Is yellow your color? We love seeing yellow inks paired with gold foil, but you can't go wrong with gold foil by itself, either. From the left: Yellow Rose, Cambridge 2, Gold, and Thank You Script cards.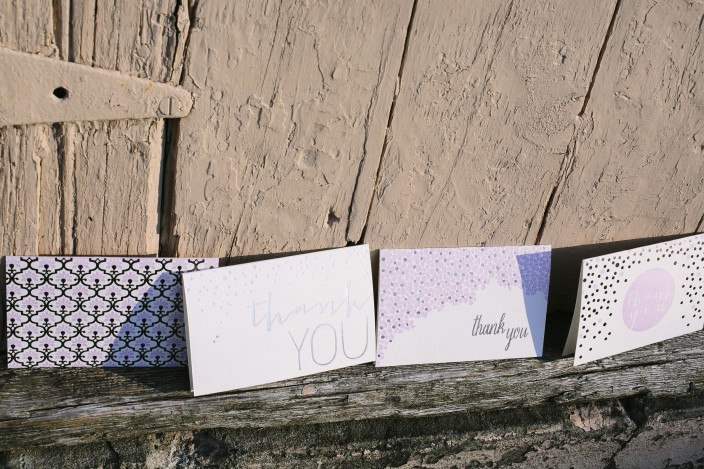 If purple and silver are more your style, check out our Grayling, Thank You Shine, Mineral Flowers and Platinum Thank You cards.
Can't get enough of the color pink? Our Aztec and Kersey Note cards are ideal if you love pastel pink, or check out our Thank You Heart, Thank You Laurel, or Pink Heart cards if hot pink is your color.
Be sure to shop all of our note cards and thank you cards to find the styles that are perfect for you! All of our folded thank you cards and notes are available as singles, six packs, and thirty packs — and our thirty packs come in a small keepsake box! Visit our shop now >>