Smock Everyday featured in Woman's Day, HGTV Magazine + Celebrate
We always love spotting our products on the pages of our favorite magazines! Smock's been getting some love from HGTV Magazine as well as Woman's Day and Celebrate. In the April 2016 issue of Woman's Day, our  medium Chartreuse boxes were featured in an article all about getting your home organized as the perfect vessel for mail (and if company comes before you're ready, just pop on the lid to hide the mess!). 
HGTV Magazine has also featured Smock in some recent issues! They used several of our patterned gift wraps in their December 2015 holiday issue about stylish new color combos (recreate the looks with our Dots, Turk, and Shimmer gift wraps). And the September 2015 issue of HGTV featured our wraps right on the cover! They created easy little makeovers by covering magazine holders and boxes with some of our wrap to create cute new office organization tools (for this story, they used our Indigo and Keiko wraps).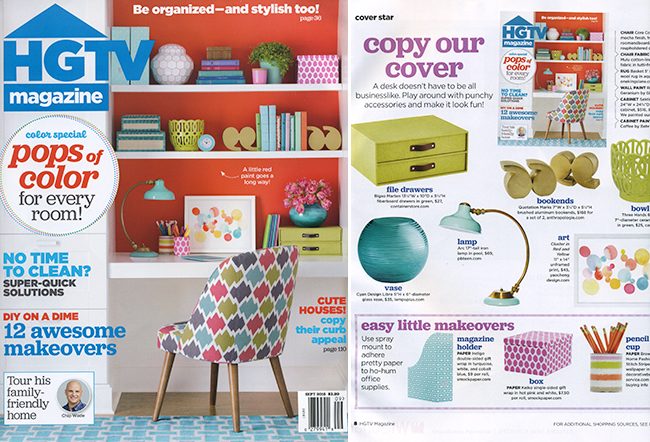 Celebrate Magazine also included us in their holiday issue, with lots of cute DIY ideas featuring our cards! They created festive garland, ceramic holiday coasters, and DIY gift toppers by repurposing our Lights Cheer, Love & Joy, Peace on Earth, and Branch Crest cards. Many thanks to all three publications for featuring Smock!